Cam's Pistol Packin' Paisley, RN, RA, RE, BN, CD
"Paisley"
Born September 19, 2013
Cam's Fiona Glenanne x Cam's Rogue Warrior
Winners and Best of Opposite in Indianapolis
Paisley is my heart dog. A heart dog is one that you seem to bond more closely than your other dogs. Having multiple dogs one always has those "more special" dogs that seem to burrow deeper into your heart - that is a "heart dog". If you've read all my stories about each of our dogs you will see I love all my dogs, but still I have those special "heart dogs", ones that are always thought of as the "special ones". And Paisley's one of those.
Paisley earning her fist obedience title, Rally Novice, First Place
Look at the sweet smile on Paisley's face (Rally Novice)
I love this girl, sweetness plus!!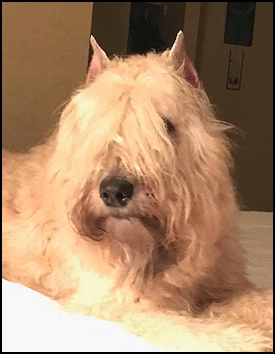 Puppy Pictures
How do you make the bed when the Bouviers are sleeping on it?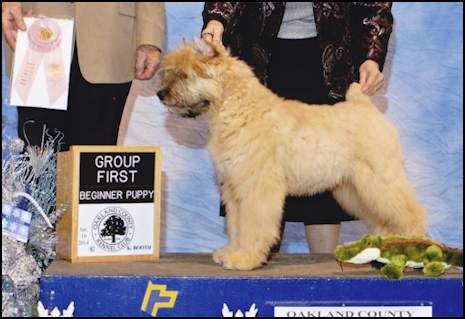 We showed her in Novi in the Baby Puppy classes and she won BOB and Group 1
Waiting to go into the Baby Puppy Group ring
Paisley at 9 weeks old. They grow up so fast!
---------------------------------------
Ch Cam's Ranger At Belbrae, CGC
"Ranger"
Paisley's Littermate - Ranger is owned and loved by Dave and Kathy Bellett